Maya Boev, M.Sc.O.T.(C)
Registered Occupational Therapist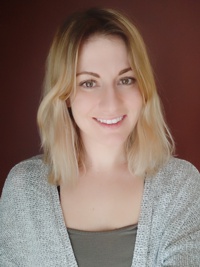 Contact
Email: mboev@ideascalgary.ca
Phone: +1 (403) 271 9020 ext. 1129
About Maya
Maya completed her Masters in Occupational Therapy at the University of Alberta in 2018. Prior to that, she completed her Bachelor's degree in Linguistics and Psychology at the University of Calgary. Maya is a registered Occupational Therapist with ACOT and SAOT.
In 2014, Maya began working for a school specializing in services for children who have autism as a behaviour therapist. Throughout her Masters she also supported families privately as a Developmental Aide, carrying out multi-disciplinary goals as set out by Specialized Services contracts (FSCD). During her time as an occupational therapy student, Maya completed two practicums supporting children with various complex physical and emotional needs in the school system, in the community and at a local crisis nursery. Maya is passionate about working with children to increase and develop self-help skills, leisure interests, school readiness & confidence, and overall well-being through engagement in meaningful occupations. Her focus on family-centred practice ensures that she will collaborate with the family and the child to set and achieve meaningful goals.
When Maya is not working, she enjoys snowboarding, climbing, hula-hooping and travelling.