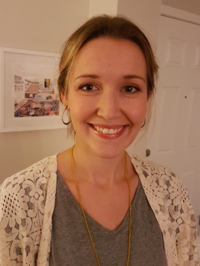 Courtney
King M.Sc.O.T.(C)
Registered Occupational Therapist
Email: cking@ideascalgary.ca
Phone: +1 (403) 271 9020 ext. 1121
Courtney completed her Masters of Science in Occupational Therapy from the University of Toronto in 2009. She also holds a Bachelor of Arts Degree with a Major in Psychology from the University of Saskatchewan.
Courtney began working in paediatrics in 2011 with Vancouver Coastal Health on the school support team. She also worked in private practice during that time. Courtney has experience working with children and young adults with a variety of needs including; muscular dystrophy, cerebral palsy, developmental coordination disorder (DCD), autism spectrum disorder, sensory processing disorder and fine motor difficulties. Her practice has a strong focus on family centred care and working towards goals that are most meaningful to the child and family.
She prides herself on being creative, optimistic and energetic. These qualities are essential when working with children and provide a comfortable environment to make learning fun!
When Courtney is not working, she enjoys spending time with her husband and three young children.